2014 is almost in the books.  We here at Burnpoetry have decided to take you down the weird, wacky, and meandering path of the sports world for the year that was in our journey through the final 6 months of two thousand and fourteen.  If you missed the first half of our exhaustive recap of all the insanity that was 2014 in the sports world, here's a link to Part I.
I've gone on record in part one, declaring that 2013 is still the weirdest year in sports history, but see if all the evidence I'm about to submit below doesn't offer up support for 2014 landing in that #2 spot.
We only got through half the year and your intrepid author had to take a long, gasping breather, huffing into a paper bag in an effort to quell my journalistic hyperventilation.  Where'd I get the paper bag you ask?  It's from the 40 I'm drinking to try to calm my nerves from having just endured the second craziest sports year on record.  Strap up, pour one out for the homies who didn't survive the first 2500 words and let's finish strong!
---
July
LeBrontourage, Season 8 Takes a Surprising Twist
2014 was, without a doubt, the Summer of LeBron.  With teams from all over swooping in to make a play for the best player in the NBA, offering everything from personnel power to unborn children to unlimited supplies of hair plugs, the King was inundated with interest from around the league.  Ultimately he chose to go home, penning an open letter-style piece in Sports Illustrated (*Author's note: PRINT JOURNALISM STAND UP!) about how this decision was about more than basketball for him.  Cleveland promptly went ape-shit crazy, traded both of their utterly absurd back-to-back #1 draft picks to Minnesota and came away with Kevin Love and the core of a new "Big 3" for LeBron.  When the news broke, a panicked Chris Bosh immediately went looking for LeBron in the Heat's team kitchen.
Once the LeBron domino fell, it triggered a slew of other free agent moves by the reactive NBA GMs as they all scrambled to find the next best thing.  The Heat had a bit of a rough July.  In fact, here was a heat map I created to show just how things went for the once-great "Heatles."
The Lakers Keep Interviewing Byron Scott and keep interviewing Byron Scott and keepinterviewingbyronscott
The news broke in late July that the Lakers were calling in potential head coach Byron Scott for his third interview.  In typical Laker fashion, they had taken something that appeared relatively simple (*Author's note: just give Phil Jackson whatever he wants to coach and/or GM the hell out of the team) and bungled and botched it with reckless abandon.  It begged the question: what the hell are they asking Byron Scott in interview #3 that they didn't think of the first time around?  Eventually, Scott was hired on and the Lakers rapidly devolved into a suicide charge with Kobe Bean Bryant screaming and waving his bayonet at the front of the line as they stumbled and lurched their way towards another lottery pick.
Johnny Manziel, Limp Bizkit Superfan, keeps Rollin', Rollin', Rollin'
This July Johnny Manziel was, predictably, the center of a lot of 2014-style weirdness.  There was a constant stream of selfies and tabloid bombs were dropped virtually every day.  *Boom* Here's Manziel with the Biebs.  *Boom* looks like Manziel was drunker than the guys from The Hangover last night.  Essentially, he was doing exactly what  I would've done if I was filthy rich, famous, and 22-years-old.  He was being an A-hole.  But when a photo emerged of the Browns QB in a Las Vegas nightclub appearing to be in the process of rolling a dollar bill, things got really strange.  Why was Johnny football rolling up a bill?  (*Author's note: here's where all the Browns fans simultaneously pray "please say there was a vending machine in there. . .please say there was a vending machine in there. . .")
There's really only one thing you use a dead-president-tube for and it's not sipping choco milk out of your kiddie cup.  Hey, you might be saying, let's not jump to conclusions, here.  It's a bathroom in a nightclub in Vegas.  That's one book you can judge by its cover.
And speaking of weird bathroom photos that blew up all over the internet in 2014. . .
---
August
Jerry Jones Appears to Misinterpret the "Sex" Part of the "Unisex" Bathroom
Johnny wasn't the only one having fun in the bathroom in 2014.  Oh, no.  Cowboys owner Jerry Jones apparently had a pretty good time rolling up something of his own in the Boys room this year.  When photos emerged of Jerry Jones either groping women —  or performing amateur, temporary, breast augmentations for the women of Dallas — the Internet turned into a torrent of hilarity.  That a filthy rich old man may be a filthy old man isn't particularly earth-shattering, but in true 2014 fashion the guy that broke the story turned out to also be completely bat-shit insane.
LeGarette Blount and Le'Veon Bell Get Caught Smoking We'ed
Yes.  It will always be funny when a guy whose name sounds like a device used for smoking a drug gets caught smoking that drug.  Also, it would appear that Le'Veon Bell's use of mari'juana has le'd him to his be'st season ever.  Ta'ke that, the w'ar on dr'ugs.  Also, I would totally watch a stoner comedy show called Bell & Blount on IFC if it existed.
Battle For the Bluejay Heats Up
In August, news broke that the Toronto Blue Jays were suing the Creighton Bluejays for stealing their logo.  With both sides squawking (*Author's note: thank you!) at one another, I stepped in to try to stop all the Jay-on-Jay crime and suggested a few trade scenarios.  Both sides needed something from one another, so I'm not sure why they didn't compromise.  No word yet as to whether Rob Ford will be named Creighton's Athletic Director.  (*Author's note: fingers crossed!)
Josh Shaw Saves a Drowning Victim, Victim Turns Out to Be Manti Te'o's Dead Girlfriend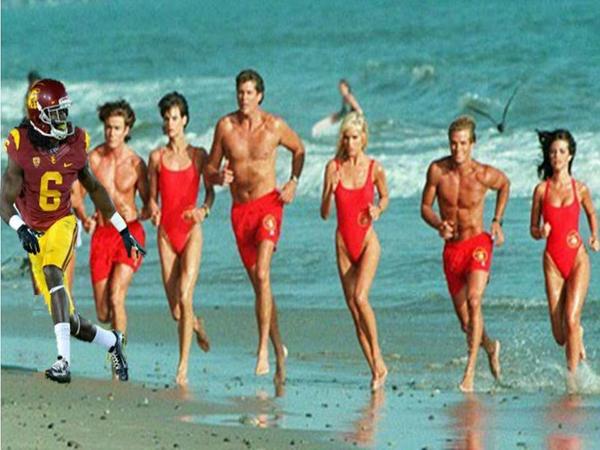 Josh Shaw is a defensive back at USC.  He made headlines this August after he injured his ankles, leaping from a balcony to save his drowning nephew.  Except that wasn't exactly how it went down.  As it turns out, Shaw was less Baywatch-David-Hasselhoff – saving innocents from drowning in the sun-drenched pools of Sourthern California – and more drunken-cheeseburger-crushing-David-Hasselhoff.  While we're not entirely sure what happened, causing the one-time USC Captain to sprain both ankles, it certainly wasn't anything as heroic as saving someone from drowning.  It was just a weird excuse that blew up in Shaw's face, getting him suspended for the bulk of the season by new head coach Steve Sarkisian.
Stephon Marbury Stars in his Own Chinese Musical
ALSD:KFJSDF:LSDKFJW:LEFRWE:LKRJWHELKJFHJSLKDJFSLDKFHSEWLKJFRELWKJHSLKDFJHSDLKFJHESLKFJ.  Just look at that clip!?!??! S:LDKFJSDL:FKHELWKJWKLEGJHSDKLHS.  I.   Can't.  SDL:KFJSELKFJEWKFWEJKWLFJEL:KFJ.  (*Author's note: Maybe 2014 is gaining on 2013 as weirdest sports year ever?)
---
September
Mike Tyson and Rob Ford Meet Up to Bro Around Toronto, Tear a Gaping Hole Into Space-Time Continuum
Have you ever seen a picture that's too funny.  Like, you can't even form vowel sounds (let alone words) when you're looking at it.  You feel yourself being pulled forward, optically black-holed in and before you know if you've got drool spilling over a corner of your mouth and 15 minutes have.  That's what happened to me with this picture.  No memes necessary.  No jokes that could top the fact that this is a very real, very un-photoshopped encounter.  This is 2014.  This is what the internet was invented for.  Thank you, Al Gore.
Ray Rice's Video is Released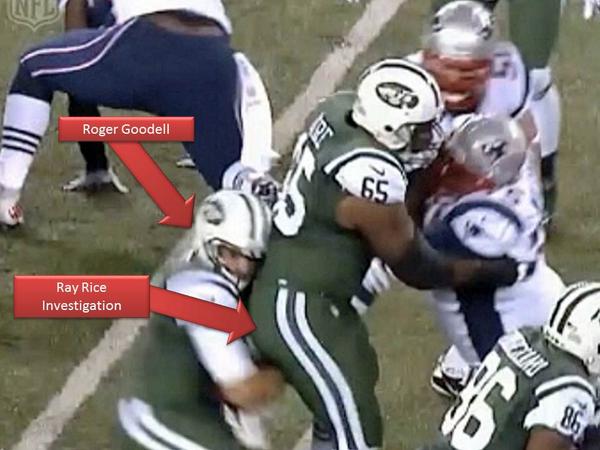 Earlier in the year, news of Ray Rice's domestic assault in an Atlantic City casino had broken and NFL Commissioner Roger Goodell reacted by really dropping the hammer.  No, seriously.  He dropped the hammer, picked up a ruler, and slapped Rice on the wrist.  Rice got a two-game suspension and the NFL believed they had dodged another PR bullet.  That is until the somehow-always-relevant-because-2014-is-really-f-ing-weird TMZ was able to obtain and release video footage of Rice, giving us images to go along with the text on a page.  Some pictures are worth a thousand words.  This one was worth millions.  And they were angry words.  Directed at the NFL.  And more importantly they were directed at the NFL's wallet.
Goodell immediately slammed on the brakes and attempted to back pedal with all the rapidity of a DB dropping into coverage.  Rice was suspended indefinitely (*Author's note: a punishment which has since been overturned upon appeal), the Ravens cut him from their rosters, and Goodell Butt-fumbled his way into a PR nightmare.  It was ugly.  And terrible.  And sad.  And the kind of weird that shouldn't be around in 2014 but still persists.
Speaking of guys who wished they were dead in 2014. . .
Arkansas State Player Fakes His Own Death During Fake Punt
In what I would argue was the play of the year, an Arkansas State player faked his own demise in an effort to draw attention away from his team's ill-fated fake punt.  How did they draw that up on the chalkboard at Ark State?
49ers Intern Equipment Guy, and Self-Proclaimed "Bro", Uses His Stunning Hair to Land Gig Officiating Friends' Wedding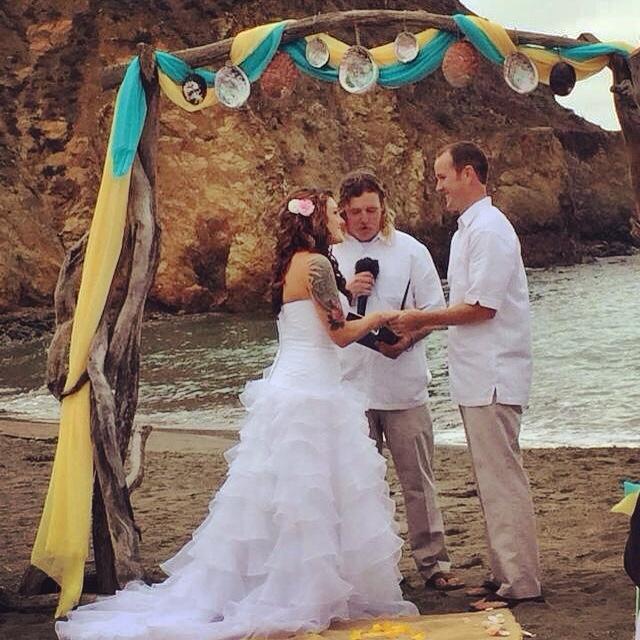 Why does this matter?  How is this a story?  Here's a closeup of what "The Bro" looks like: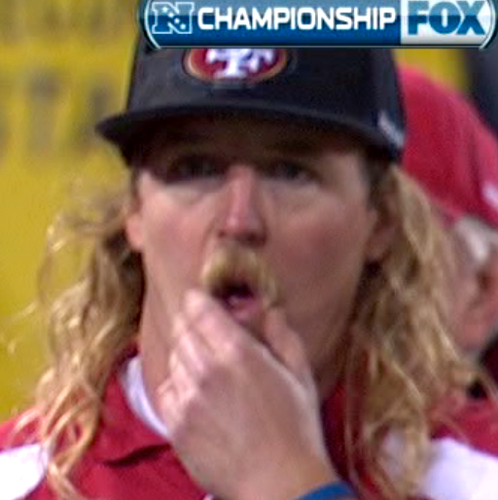 This is 2014.  It's a story: because a 49ers fan like me can follow an intern equipment guy that works for my favorite NFL franchise on Twitter, strictly because he's the most absurd-looking dude on any sideline anywhere, and he can take that flowing mane and facial pelt to a beach and marry his friends.  That is why 2014 is amazing.  Congratulations to the couple, by the way.  For having the best mustachioed ceremony in history.  Oh, and on your marriage, too.
---
October
Biggest Day in Mississippi Football Ever and Somehow Katy Perry Steals the Show
On Saturday October 4th, the state of Mississippi had what was likely the biggest football-related day they've had since some kid decided you had to say their state's name 5 times before you got to rush the quarterback in backyard football.  Mississippi State defeated #6 Texas A&M and Ole Miss pulled off a shocking home upset of #3 Alabama.  But all anyone could talk about was a potentially drunk Katy Perry, seemingly selected at random from a diverse pool of potential guest-pickers, showing up on College Gameday and hitting on Oklahoma's quarterback, waving phallic corndogs all over the place, and generally pulling ridiculous faces.  Why was she wearing a shirt that looked like it was handmade by some people working Jim Henson's studio?  Why did she bug her eyes out and dramatically reveal a corndog?  Hopefully we'll never know.  It's better that way.
The Walking Ned Just Won't Die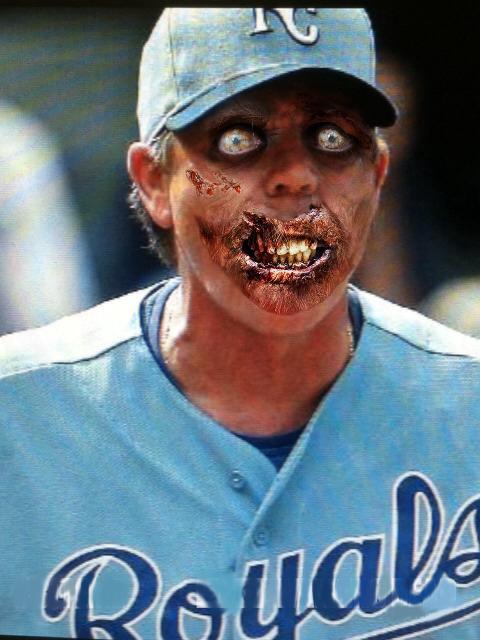 I know there hasn't been much baseball in the post so far.  And, truthfully there's only going to be a couple of entries surrounding it.  I'm not usually much of a baseball guy.  But I found myself compelled to leap with both feet onto the KC Royals' massive bandwagon this postseason.  They won in extra innings.  They eeked out impossible victories.  They were like zombies.  They just.  Wouldn't.  Die.  They were. . .the Walking Ned.  Finally they met their match, falling in Game 7 of the World Series to the San Francisco Giants and the absurd Madison Bumgarner.  We'll see if they can duplicate the success, but it was fun finding myself intrigued by baseball in October again.
And speaking of the world series, let's take a look at the weirdness of the World Series MVP. . .
(*Author's note: no, not that MVP. I mean this MVP.)
Chevy Guy Becomes the MVP of the World Series
A fumbling, bumbling, botched attempt to perform Chevy's obnoxious corporate-sponsor plug led to the wide-spread internet enjoyment.  Thanks, Chevy guy.  For giving us all something to laugh about.  And stuff.
TCU Defense Continues to Pound it, Really Giving It To Opponents.  Hard.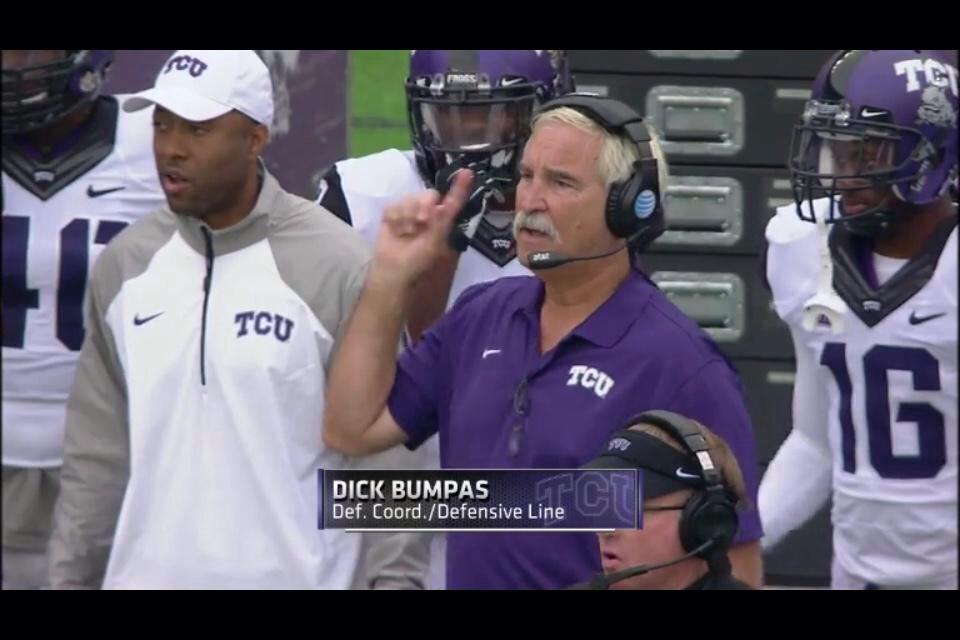 TCU's season started off strong and blah, blah, blah.  They're defensive coordinator is named DICK BUMPAS?!?!?!?  His name and his mustache have to be taken directly from the set of Boogie Nights.  I mean, wouldn't you just go by "Richard"?  (*Author's note: if you're going to Google him, just be very careful with your typing.)
Man With Tom Brady Helmet Tattooed on his Head is Arrested for Insider Trading
Okay, it was actually drug possession.  But I'm sure you knew that already.
---
November
The Curse of The Biebs Strikes Again
Justin Bieber has long been a highly visible presence in the sports world.  From his attending and competing in the All-Star celebrity basketball challenge during NBA All-Star Weekend, to his courtside seats for Heat games in Miami, The Biebs loves him some sports.  But there has been a theory developed recently, an insidious, dark, heart-stoppingly terrifying conspiracy that has begun circulating about our beloved Justin Drew Bieber: that he is cursed.  The Biebs is reverse Midas-touching sports franchises all over the globe, his mere presence appearing to doom the Spanish National team, the Miami Heat, and now the Pittsburgh Steelers.  Is it real? Man, do I hope so.
Melvin Gordon Breaks the NCAA Single-Game Rushing Record, His Reign Lasts 1 Week
That's actual footage of Melvin Gordon playing against Nebraska.  It was that bad.  Melvin was treating the Huskers he was Dom Toretto and was living his life a quarter mile at a time.  Yeah, he went for that many yards on us.  He broke the NCAA Single game rushing mark. . .in 3 quarters.  Then he just kind of sat back and chilled, watching the Huskers continue to explode like a hastily thrown Molotov Cocktail, content to know that he would be the record holder for a long time to come.  After all, it had been since 1999 that anyone had gone for four hundy in a game.  This one would be safe for quite a long, long wh– what's that you say?  It's already been shattered?  Immediately?  Turns out, Oklahoma freshman Samaje Perine broke Gordon's short-lived record the following weekend, posting 427 yards against Kansas.  Weird.
Kobe Bryant Takes Over All-Time Misses Lead
(Author's note: I blatantly stole this joke from Twitter user @kbrissy who used it to describe Rudy Gay's horrific shooting night back in November of 2013. I would've used his graphic to credit him, but it already had Rudy's name attached.  I'm a thief.  I admit it.)
Kobe defiantly took over the all-time miss lead, having bricked 13,418 shots.  He did that by averaging 10.7 misses per game over his lengthy career.  Somehow, I love Kobe Bryant more when he's shooting 7-20 and talking trash to little children on the sidelines.  Is it just me, or does the NBA need Kobe just as much as Kobe needs the NBA right now?
 Will Muschamp and Bo Pelini Get Canned
Both Nebraska head coach Bo Pelini and his counterpart at Florida were fired in November.  Both have since taken jobs at places that seemed better suited to their personalities.  The fiery, disgusted-with-media Pelini will now be coaching at Youngstown State, where he should be out of the fishbowl of Lincoln, Nebraska.  Will Mushcamp will now go back to his lucrative career as a Bill Callahan body double.
Which finally brings us to. . .
---
December
Brady Hoke Gets Fired, Probably Can't Hear the Announcement Because His Headset is Too Loud
And now, a scene from my upcoming Broadway musical,  Up in Hoke
FADE IN:
INTERIOR: A dark coach's office.  There's an empty box of Dunkin Doughnuts on a cluttered desk.  Up against one wall there is a series of bins for incoming mail.  A huge stack of mail pokes out of the bin labeled "Stuff that was actually supposed to be for Artie Lange."  The "Fan Mail" slot is conspicuously empty and has cobwebs covering its entrance.  In a corner of the darkened office, Brady Hoke is feverishly struggling to open a wrapped box containing a Blue Tooth headset. 
Michigan interim Athletic Director, Jim Hackett, enters the room.
Startled by this intrusion, Hoke lets out a wild, panicked noise.  The sound that comes out can only be described as "Winnie the Pooh getting prison-shanked."
Hoke
Blllllargh!
He drops the box clumsily to the floor.
 Hackett
(Smiling evilly)
Sorry, Brady.  I didn't mean to startle you.  Were you. . .busy?
Hoke
(Fumbling over his words)
I—uh. . .I'm just working on.  Headset.  Look, I know you guys wanted me to wear a headset.  So I'm just. . .
(He trails off)
Hoke finally gets the box open and pulls out the headset.  Grinning, he puts the ear piece in and points to it jovially.
Hackett
(Shaking his head)
Listen, Brady.  There's no nice way to put this.  You're fired.
Hoke
I can't hear you.  Because I've got the headset in.  See how bad they disrupt communication?  See?!?!
Hackett
Brady, I know you can hear me—
Hoke
It's.  The.  Headset.  Too loud!
FADE OUT
Chugging Beer and Running Hard, Not Just For College Students Running From the Cops Anymore
The first ever Beer Mile World Championships were held in Austin this year.  I know what you're thinking.  Finally a way to combine elite level athletes with heavy drinking.  About time.  (*Author's note: What?!? Am I the only one who would love to watch phenomenal athletes compete in drinking games?  I highly doubt it.  Start posting Kobe's beer pong games to YouTube, the NBA.  Please.)  It was captivating, finally getting to watch the athletes drink right along with the spectators.  For once, I wasn't the only one chugging a beer and watching a sporting event.  The athletes were doing the same thing!  Audience participation!  Corey Gallagher, a chug-happy Canadian with an incredible ability to house beers after running long distances, won the inaugural event.  He was kind enough to give No Coast Bias an interview about his traning, his chugging, and whether or not he still has to pay for drinks.  What a wonderfully weird year.  I love 2014.
Ryan Leaf Gets Out of Prison, Walks Directly Into Your Nightmares
What else needs to be said, really?  I'm going to try to stop my spine from convulsing with shivers and move on as quickly as I can.
Toronto Raptors Star Lou Williams is Dating Two Women. . .Who are Dating Each Other
A:LKJSD:FLKSW:LJEKHGFW:OLJ:QL#KJH@Q#:OHNWWOJNWOIEHJWQ#OTFRN#WLKJNW.  Reports have recently confirmed that Toronto guard Lou Williams is dating two women.  At the same time.  That are also dating each other.  You win, 2014.  You.  Win.
In conclusion
2014 definitely ranks as the second weirdest year ever.  It's so close to weirdness champion, 2013, that they are practically dating the same dude.  And each other.  What an insane ride it's been so far.  Chime in below, because I'm sure I missed some of the other weirdness the year had to offer.
FIN