Last year I went on record, declaring 2013 to be the weirdest sports year ever.  I firmly believe that that will continue to hold up.  But, damn, 2014 was a year for the record books, too.  If 2013 was Wilt Chamberlain's 100-point game, then 2014 is definitely Kobe's 81-pointer.
I stand by my statement that Dennis Rodman, international peace-keeper and Manti Te'o, international catfished-doofus wil always hold down 2013 as the weirdest year ever, but 2014 came hard for that number one spot.  Ladies and Gentleman of the jury, take a moment to stop live-tweeting events and let me present a month-by-month breakdown to you as to why 2014 was the second weirdest sports year in history.
---
January:
Richard Sherman yells, internet panic ensues!
The 49ers and the Seattle Seahawks really don't like each other.  When the two teams met on January 19th in the NFC Championship game, with the stakes at their highest and the lights at their brightest, one man somehow managed to single-handedly overshadow the entire game (*Author's note: and a fantastic game, at that.)  After making the play of the game and potentially the play of the year, outspoken defensive back Richard Sherman had something to say to Erin Andrews in his post-game interview.
Yes, it was Richard Sherman, professional blow hard.  And he was blowing.  Hard.  He was blowing like Louis Armstrong in the middle of a wild solo at a packed Harlem Jazz club.  The craziest part? He probably deserved to have that reaction.  They shoved the mic into the face of a phenomenal shit-talker while he still had more adrenaline in his system than the post syringed-in-the-heart UMA Thurman in Pulp Fiction.  It was just a strange scene, seeing him howl into the microphone like a WWE Heel who just bodyslammed the good guy through a table.  Some hated it.  Some loved it.  Everyone had something to say about it.  2014 was picking right up where 2013 left off.  By being weird as hell.
Nine Year Old Stars on her High School's Varsity Basketball Team
During January, video surfaced of a ridiculous nine-year-old girl, all 4'7" of her, crossing up and driving by her high school basketball competition.  It was Jaden Newman, the pint-sized University of Miami recruit, establishing dominance over girls twice her size and twice her age.  When I was 9-years-old I was getting crunk about dinosaurs, crushing Surge, and trying to figure out how to make a bounce pass.  The craziest part of this story?  This somehow ended up being only the second weirdest "Jaden" related story of 2014.
Peyton Manning Shouts Omaha, Omaha Immediately Demonstrates Why It Can't Have Nice Things
This is video of Peyton Manning's favorite audible call.  It's the word "Omaha."  The nation became obsessed with the call, and the fact that Peyton was repeating it more than Mike Jones shouting his name back in 2005.  But no one took more weird pleasure out of Peyton Manning's favorite disc-skipping phrase than the city of Omaha, Nebraska.  The Omaha Chamber of Commerce, believing that Peyton's checks at the line would be met with checks in their pockets, vowed to donate money to his charity should the Broncos signal-caller continue to use their name and all of Nebraska — having little else to do in January, other than sit inside while winter bore down on them like a ravenous predator — stumbled all over themselves to fawn over having their name mentioned by a celebrity like a blushing high schooler named "Jane" seeing a Maroon 5 concert.
---
February
Super Bowl XLVIII is XLVIII Times Worse Than Anyone Thought It Would Be
We should've known that this game was doomed for unintentional comedy immediately after they had a pimp-coat wearing Joe Namath try to hijack the coin flip. The aforementioned Richard Sherman and Peyton Manning met up for Super Bowl XLVIII in a showdown, pitting the Broncos' high-powered offense against the Seattle Seahwaks' tough defense.  A Lamborghini and a Hummer going toe to toe with millions upon millions of eyes watching and breaths being held captive.  It was all Gone in 60 Seconds (*Author's note: Hiiiiii-ooooh!) as the Broncos immediately botched their opening snap and proceeded to melt down into a steaming pile of high-def horse manure.  The game ended up being 43-8 and even Joe Buck's commentary seemed exciting by comparison.  If you found yourself wishing that Beyoncé would show up and shut the power off on this one for a while to give your eyes a break from their corneal curb-stomping, you weren't alone.  Thank goodness for the weed jokes, or this would've been a complete waste of time.
The Eyes of Costas Are Upon You
In February, the Olympics swept across the sporting world.  Pomp.  Circumstance.  And creepy, zombie-eyed Bob Costas.  (*Author's note: ever play that game, "One of these things is not like the other?")  In an Olympics full of plot-lines – corrupt Russian officials, poor athlete conditions, Shaun White's pasty ass going for a repeat – Costas' raging eye infection stole the show.  It lead to a myriad of conspiracy theories on why the announcer looked so much like a stoned Mr. Peabody despite Bob's insistence there was nothing malovelent about his eyes.  Here was my theory, centering around Costas and Shaun White working as XXX-Style secret operatives in Russia to try to take out Edward Snowden, written out as a screenplay.
And speaking of stoner-eyes at the Olympics. . .
Olympic Skiier Torin Yater- Wallace Takes Our Hearts (And Approximately 13 Quarter Pounders From McDonald's)
At the Olympics, McDonald's is known to offer up free grub to the athletes.  They single handedly kept Jamaican sprinter Usain Bolt alive when he was eating 100 McNuggets a day in Beijing. They slap their corporate logo on anything they can get their Ronald-loving hands on.  And they provide the perfect eats for a clearly sticky-ickied up 18-year-old Olympian who's looking for some major chow after blazing some Chron with the Russian ice dancer girls in an effort to get laid.
Marcus Smart Gives us Malice Jr.
With Oklahoma State losing late in an early February game to lowly Texas Tech, one-time top-5 NBA lottery pick, Marcus Smart, became incensed by the taunting of a fat James Caan impersonator and went into the stands to give him a two-handed shove.  We don't know exactly what was said, but we do know that any man who doesn't wear an undershirt beneath his XXXL sized polo can't be trusted.  Smart's season continued to spiral downwards, getting suspended for his transgressions and slipping down in the draft after an inconsistent year with an under-achieving Cowboys team.  (*Author's note: the best part about this GIF? The lady on Faux-Caan's left.  She can't stop pointing her finger.  She points at Smart like she just fingered a mob boss for the prosecution in court on a soap opera.  Outstanding.)
David Stern Retires
Although few believed this grizzled veteran commissioner would ever relinquish his iron-fisted rule over the NBA, at least not until he was 6-feet under the soil in a posh, cozy coffin, NBA Commish Stern willingly ceded his position atop the Iron Throne to his next-in-line apprentice, Adam Silver.  Was this a case of game recognizing game?  Was Stern such a big fan of the way Silver handled the "Targaryen Deal" that he felt compelled to promote him up to take charge of the league?  (*Author's note: If you're unfamiliar with Adam Silver's biggest business transaction as liutenant to Stern, see the below picture).
---
March
Wichita State Continues Their Miraculous Run, Then Promptly Gets Screwed by NCAA Tournament Selection Committee
Wichita State's undefeated season was one of the single most fascinating subplots of the 2013-2014 College Basketball season.  An unlikely story, this band of permanently underrated players from the middle of the country somehow continuing to win and win some more, that planted itself somewhere between Thunderstruck and Like Mike on my BBI (*Author's note: Basketball Believability Index).  But the weirdest part of all?  Somehow they got seed-screwed into playing Kentucky in the second round.  Because, weirder still, was the fact that Kentucky was an eight seed.  A MOTHER-FING EIGHT SEED.  KENTUCKY?!?!  However, it ended up being the game of the year, with the Wildcats prevailing down the stretch in spite of both Harrison twins somehow reminding me of LeVar Burton.
Oregon Proudly Introduces Their "Newest Recruit", Celebrating by Cramming Him Into Their Extra Schmedium Sized Jersey 
Welcome to @WinTheDay's newest recruit @BillCosby, posing at the @HultCenter yesterday #NationalBrand pic.twitter.com/v2GzQHbHBj

— GoDucks (@GoDucks) March 4, 2014
. . .as if Bill Cosby's year could get any creepier, right?  J-E-L-L-Nooooooo!  You might want to do a background check on this "new recruit" before you let him on campus.  Also, please make sure he's in the all-male dormitory.  Please.
Mongolian Sumo Wrestler Kakuryū Rikisaburō is promoted to yokozuna
Look, March was kind of a slow month, okay?
Minor League Baseball Team, The Kalamazoo Growlers, Announce They'll Wear "Selfie Jerseys"
A really slow month.  The Jerseys, which debuted in July were probably the most obnoxious uniforms I've ever seen.  When a pitch came in high and tight and the manager shouted "Duck!"  everyone just assumed he was talking about the girl pursing her lips to look like waterfowl on the batter's left sleeve.  (*Author's note: Alright, so maybe I made that last part up.)
---
April
 Former Florida Atlantic Coach, and Older Brother to Recently-Fired Nebraska Head Coach, Carl Pelini is Shopping a Book
Yes.  Apparently Carl hasn't only been rolling papers and smoking them.  He's been penning a novel.  Not just a memoir or a sordid tell-all.  This is fiction.  Will it be straight Gonzo, drug-fueled insanity like Hunter S. Thompson?  Will it be tweenage angst wrapped up in the loving embrace of high school football?  Or will it be about a crazed, revenge-seeking egomaniac hellbent on getting his own white whale?  Watch out, Shawn Eichorst.
Donald Sterling Proves to be Exactly as Horrible as We All Thought
This April audio came out from Donald Sterling, released by his vulpine-faced mistress V. Stiviano, in which the Los Angeles Clippers owner basically went on a racist tirade that sounded like leftover dialogue for Leonardo DiCaprio in Django Unchained.  Sterling's awful audio immediately put new-commissioner Adam Silver in the hot seat and the league's new head honcho didn't hesitate to drop the hammer, banning Sterling for life from any NBA activity.  Silver delivered a message and it was clear that the NBA wanted Sterling to give up his franchise.  As per usual, the cantankerous curmudgeon tried to sue his way out of things, but eventually folded and the team was later purchased ba kajillionaire Steve Ballmer.  Do I really think Sterling won't try to sneak in to make racist jokes at the Staples Center with an underaged floozy?  No way.  Here's a few of the disguises I predicted he would try to use to get in and watch the team.
---
Northwestern Football Attempts to Unionize, Immediately Confuses Idiots Like Me
(*Author's note: but luckily for you, I've created this handy flowchart to help you figure out how all the legal proceedings would go.)
I literally think that chart is the closest I came to making sense of the whole thing.  A college football team trying to unionize?  2014 for 'ya.  The only thing that could've made it weirder would've been if they picked Derek Fisher to be in charge of the whole thing and he did next to nothing for them.
---
May
The NFL Draft Gets Weird, 2014 Style
Johnny F. Heisman Football slipped down the draftboard after an offseason spent partying with rolled up $20 bills in Las Vegas bathrooms, dropping to #22 and to the Cleveland Browns.  An undersized, hard-partying QB slipping down draftboards isn't weird.  What is?  The he apparently text the Browns GM and told him to "hurry up and draft me."  I speculated about who else might be texting the Browns on Draft Night, too.  Another highly-touted QB experienced his own free fall, with the Vikings selecting Teddy Bridgewater with the final pick of the first round.  Needless to say, it was the worst night for Teddys, Bridges, and Water since Chappaquiddick in 1969.  South Carolina's JaDeveon Clowney went first overall and promptly did nothing in his rookie year (being injured virtually the entire year).  How typically 2014 of you, the NFL Draft.
Diego Costa Whispers to Horses, Asks to Borrow Their Placentas
Yeah.  This headline alone is enough to make you gag.  I understand that.  However, when Atletico Madrid striker Diego Costa tore his hamstring this April those wacky Europeans decided that instead of heating, icing and Ibuprofen, they would try something a little. . .different.  So, utilizing an Island of Dr. Moreau sounding therapy, involving electro-shock and horse placenta ointment, Costa went in for treatment.  If anyone needs me, I'll be the guy rushing to the bathroom for a good old fashioned dry-heave.
Somebody Get Me A Starter Jacket: The Charlotte Hornets Are Back, Baby!
Unforunately, Mugsy and Larry Johnson aren't on the bench anymore.  But the Charlotte Bobcats finally caved in to the massive demand of all the '90s enthusiasts like myself and re-branded back to their God-intended franchise name: The Hornets.  So as I sip my Amazon-ordered Surge, smashing on my French Toast Crunch while wearing my snap-back hat and listening to a bunch of boy bands on the radio, I can also watch the Charlotte Hornets get after it on the court.  The 90's are back, son!  Somebody get me a Warhead and turn up the Will Smith songs!
50 Cent's First Pitch, Worth Approximately A Quarter
Speaking of Nostalgia: remember 50 Cent?  He's still around.  And apparently all those curls he was doing at the gym during his In Da Club music video shoot didn't translate well to his 2-seam fastball.  Here he comes with what many are arguing is the worst first pitch in history.  The sad part?  The Chicago Cubs probably tried to offer him a contract immediately after this toss.  "G-g-g-g-g-g-get the hell out of the way!"
Nebraska Linebacker Josh Banderas Steals a Whole Peloton of Bikes
University of Nebraska Linebacker Josh Banderas was arrested with a pickup full of stolen bikes in May.  Why?  Reducing his carbon footprint?  An inescapable urge to juice up and become the next Lance Armstrong?  Who the hell knows.  The above photo is my best guess as to what he was planning on doing with a bevy of hijacked Huffys.
---
June
Luis Suárez Goes Hannibal Lecter at the 2014 FIFA World Cup
So, in 2014 the World Cup was back on the scene.  It was fantastic.  There was weirdness all over the place.  From Brazilian governmental conspiracies to a hilarious pump-up speech from Will Ferrell and Teddy Goalsevelt.  From the US somehow managing to escape the Group of Death, to a bizarre wasting of US Goalie Tim Howard's game for the ages.  It was all outstanding, fascinating, and very strange.  However, no story topped the flesh-eating zombie known as Luis Suárez and his diabolical dentures.  Suárez, the hyper-talented Uruguayan national team striker, ignored the billions of eyes that were watching and just couldn't help himself from gnawing on the shoulder of Italian player Giorgio Chiellini.  He was suspended 4 months for what turned out to be the latest in a long line of attempted cannibalism.  Plenty of time for him to enjoy some Fava Beans and a nice Chianti.
The AC Goes Out, LBJ Goes Down
In game one of the NBA Finals, the air conditioning went out in the AT&T Center in San Antonion, Texas.  What happened next was a Twitter dogpile on LeBron James, as they oft-criticized Miami Heat star cramped up and had to limp off the court, watching the game from the sidelines in pain.  Was it Greg Popovich, pulling the ultimate mind-trick?  Was known sporting-event-power-surger Beyoncé in the building with Hova to watch the game?  Was LeBron shrinking in another huge moment  (*Author's note: an unfair rap, in my opinion, even though I love to hate on LeBron.) or was this simply a case of electrical malfunction at the exact wrong time?  We may never know.  But it was certainly weird.  Also: nice work on keeping LeBron hydrated, Powerade.  (*Author's note: ironically enough?  They're called "drops.")
NCAA Track and Field Championships Reveal One True Winner for the First Half of the Sports Year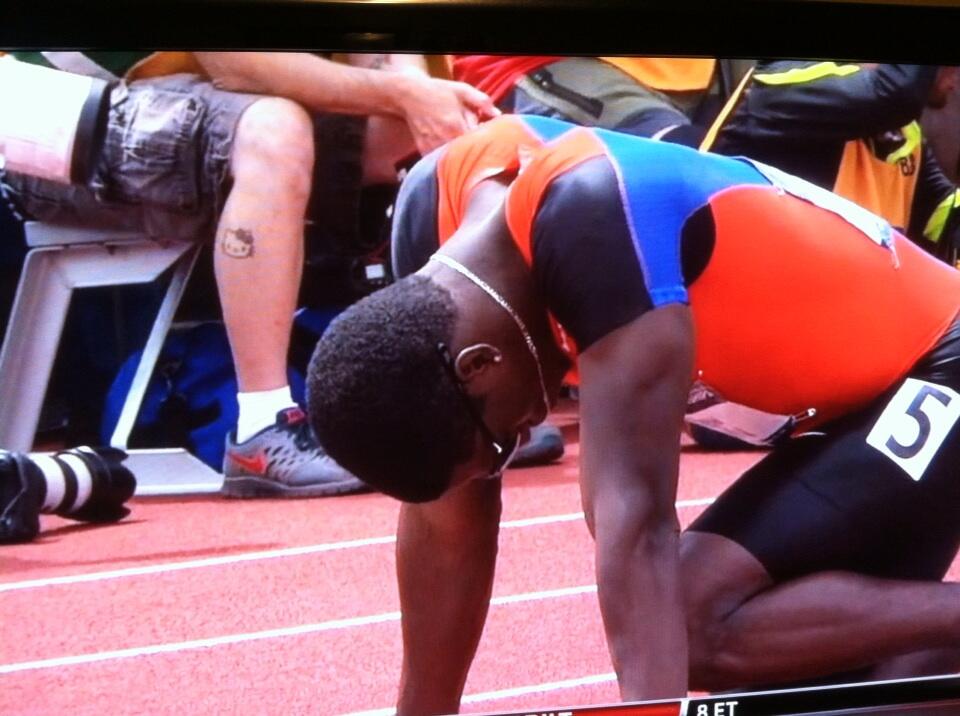 Whoever that dude is with a Hello Kitty calf tat and big enough stones to wear shorts at a nationally televised event.
Stay tuned for Part II of NCB's 2014 Sports year in review.
TO BE CONTINUED. . .